Culture Is the Way: 5 Steps to Building a World-Class Culture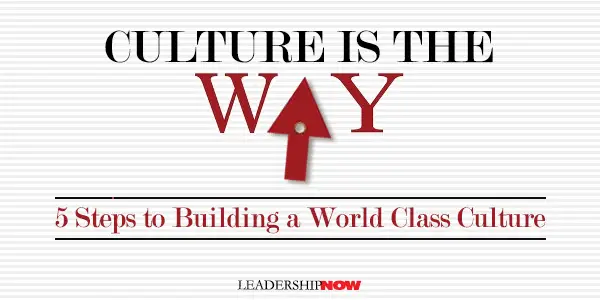 YYOU CAN change the results your organization gets by changing its culture. And every organization has a culture whether it's by design or default. "Whether an organization has a world-class culture or a toxic one, its future depends on how much attention and focus it pays to growing its culture," writes Matt Mayberry, author of Culture Is the Way: How Leaders at Every Level Build Organizations for Speed, Impact, and Excellence.
Culture serves as an internal compass for an organization's fundamental beliefs, how the organization behaves day-to-day, and the level of performance in the marketplace.
To begin, let's look at five common roadblocks that can stop us in our pursuit of cultural excellence that Mayberry addresses:
1. Warm leadership buy-in. "Most senior leadership teams are made up of accomplished leaders with a lot of experience, and the last thing most of them want to do is change their leadership style or change how they get things done. thing in the last ten to twenty years."
2. All slogans and no action. "Words cannot build a culture or change a culture by themselves. It requires action. Culture is not about turning values ​​into behavior. It's about turning values ​​into repeatable behavior, into actions that become daily habits shared throughout the organization.
3. Temptation of instant gratification. "When we have a strong desire for something, our patience will be greatly tested. Any goal worth achieving, whether it's a personal goal, a professional dream, or building a great workplace culture, requires a delicate balance of tenacity and extraordinary patience. .
4. Distortion and distraction. Just throwing ideas around and seeing what sticks and what doesn't won't get you any closer to a solution, and it can actually do more harm than good. You should be careful when rushing to adopt and implement an idea you read. "
5. Lack of cascading change. No end date. This is an ongoing commitment. "Being interested is not the same as action being taken. Being interested in creating a great culture is just that. Interest. It will never progress unless consistent action is taken."

Here's an overview of his five-step process:
Step One: Define Your Culture
You must be ruthlessly clear about who you are as an organization. Culture should be clearly defined so that everyone knows what you mean when we say, "our culture." Everyone should see culture the same way. "Great cultures are defined cultures. This means that every leader, manager, and employee can describe the culture and what it means, and the descriptions will be the same for many."
Step Two: Discovery Through Collaboration and Inspiration
"Culture change starts with changing one person's mindset and behavior at a time. And changing those mindsets and behaviors, especially at scale, has to make people feel like they matter that part of the process instead of relying on old ways of dealing. Use a bottom-up approach. "Culture should be top-down directed but then bottom-up is created."
Step Three: Launch, Cascade, and Embed
If you want to drive culture change, you need a playbook. That playbook should ensure the alignment of the management team, have an official launch date, a communication strategy, a plan to cascade the message throughout the organization, create an ethical manifesto, and a plan for feedback. "You have to convey an inspiring and persuasive message that sends shockwaves throughout the company."
Step Four: Drive Long-Term Impact
Creating a sustainable culture "requires unwavering fanaticism in the ongoing process and journey." Building a culture requires consistent focus for the long term. Mayberry's Five-Step Fanatical Framework helps you do just that. It consists of continuous fanatical attention, development, and nurturing, fanatical focus on key areas of improvement, fanatical about alignment, fanatical about follow-through, and fanatical about why.
Step Five: Leaders Must Light the Way
How well organizational leaders practice what they preach will determine the long-term success of the desired culture. Nothing can make up for poor leadership. Leaders must coach for excellence. "The best leaders who get the best out of their teams identify as coaches rather than managers or leaders."
***


Follow us on
Instagram
and
Twitter
for more ideas on leadership and personal development.
***


Posted by Michael McKinney at 07:59 AM

Permalink
| Comments (0)
| This post is about culture
, General Business
, Human Resources