Embrace the New Norm by Listening to Your Employees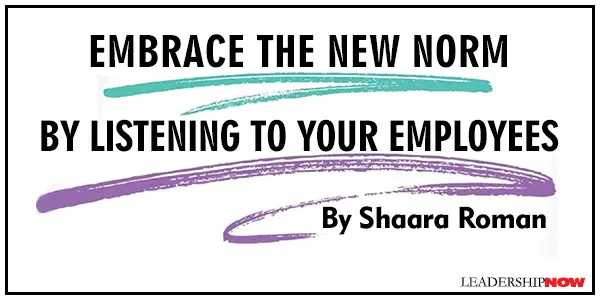 AAFTER a tumultuous couple of years, the majority of the US workforce is out of a job, burned out, and fed up. The concept of work-life balance is becoming more prevalent, and people are taking big steps back from the hustle and bustle of the workplace. Many people are becoming less motivated in their jobs and leaders are confused about what to do.
The answer is simple – listen. Listening to your employees' complaints, wants, and needs goes a long way. It is very clear what workers need to stay motivated because they are very vocal about these changes in priorities.
When Millennials entered the workforce, they prioritized "work to live" and didn't want any part of the "hustle culture" that prioritized face time, long hours, paying your bills. Gen Z feels the same way. Additionally, research continues to show that Millennials and Gen Z in particular, including the rising generations, want to work in places that are committed to diversity, equity, and inclusion. They want their voice and opinion to be heard, they want to feel their contributions are valued, and they want the flexibility to work how, where, and when they want. People always want to do interesting work, they want flexibility, they want to develop their skills, they want to work in places where the culture allows them to grow. The difference now is that people see that as a real possibility, so they have a hard time going back to 'old behavior.' They fight for what they want, and organizations that don't meet them halfway are left behind.
COVID has made everyone reassess their work relationship and now millions of workers are opting out – whether to take a sabbatical or join a new company or start their own gig or do the something very different. The old view of grinding your way to the top is not only outdated it also puts you on the fast track to burn out, and nobody likes that. Our world is also fast-moving and constant standing also adds to the burnout we experience.
Right now, the power rests with the workers – and will continue to do so even in a predicted recession. They tell us in many ways that the status quo is unacceptable. More women are leaving the workforce in 2020. Millions have joined the mass resignations, and more than two-thirds of workers have lost their jobs or part of the "quiet layoff." This is an opportunity for leaders to develop, trust, and engage their staff to ask what is possible for them and then work to make it a reality.
Organizations that have any chance of doing this in the future of work will do the following:
Prioritize DEI and make it a clear part of your ongoing way of doing work – you have to walk the walk.
Be aware of your culture so that it is the culture you want, not the culture you get.
Live your values. It's very easy to come up with some great sounding words and phrases. It is more difficult to live it and to live it in hardship.
Offer flexibility and put trust in your team. Showing your employees that you believe in their ability to self-regulate will give them a sense of independence that will likely boost their morale and their work.
Foster a collaborative work environment and eliminate any old formalities (think rigid hierarchies and jumping through hoops)
Take steps to avoid burnout by reevaluating workloads, expectations, and deadlines. Employees shouldn't feel like every task is urgent or like they have to answer emails on Saturday.
We are on the heels of the future of work. Our nation's workforce is undergoing a major shift in attitudes and priorities. What motivated someone 5 years ago – even two or three years ago – is not the same thing that motivates that same person today. Organizations that continue to ignore/resist this shift and try to force old processes are setting themselves up for failure. To motivate your employees, you need to listen and embrace change.
***

Shaara Roman is the author of The Mindful Workplace: Strengthen Your Culture to Thrive Through Any Crisis, and the founder and CEO of The Silverene Group, a culture consulting firm that aligns people, strategy, and culture to optimize organizational performance. As an award-winning entrepreneur, board member, speaker, author, and experienced chief human resources officer, Shaara and her team consult with leaders on creating healthy workplaces by helping them build inclusive workplace culture, designing effective organizations, and aligning their company values ​​and people programs to achieve business goals. Born in India, educated in Nigeria and England, and living in Greece before coming to the US, Shaara uses her global experience as the foundation for her unique expertise in developing strategies to improve the culture, quality of workers, and operations in many disciplines. in the public, private, and nonprofit sectors. He received an MBA from Georgetown University, where he is also an adjunct professor. Today, Shaara serves on several advisory and nonprofit boards. Connect with Shaara at LinkedIn and on shaararoman.com

***


Follow us on
Instagram
and
Twitter
for more ideas on leadership and personal development.
***


Posted by Michael McKinney at 06:27 AM

Permalink
| Comments (0)
| This post is about Human Resources