Good Power: Changing Lives. Change of Work. Changing the World.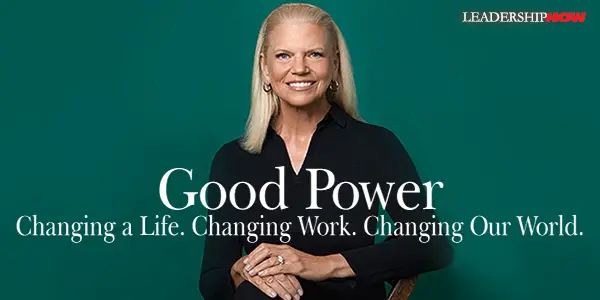 QIT'S TIME TO THINK about power before you get it. Power is part of leadership, and it can be used to serve others or for personal gain.
on Good Power: Leading Positive Change in Our Lives, Work, and Worldformer Chairman and CEO of IBM Ginni Rometty changed the power as a way to "drive meaningful change in positive ways for ourselves, our organizations, and for many, not only some."
Using his life experiences and lessons learned, he derives the principles that define good power. He observed that power that does not produce tangible results is useless. "Power is needed to change things for the better, and that power can be good if it is used respectfully, if it navigates tensions, and if it strives for progress beyond the idea of a man of perfection."
Rometty divides the book into three parts that correspond to our own journey as we grow into adulthood: the power to change me, the power to change us (a group or organization), and the power of again us as a society.
He says that while some clients appreciate his perfectionist tendencies, it sometimes leaves his colleagues cold. "My pursuit of perfection often means that I only focus on what needs to be changed without acknowledging the positive. This prevents people from believing in themselves. It took me some time to learn that just because i can teach something doesn't mean i should.
The soul of good power is "is in the service of others," which he distinguished from the act of "serving others."
Serving others is not a means to an end, but a means in and of itself. This is reflected in the way we act and the behaviors we choose during preparation, interaction, and follow-up.

When we are in the service of people, we also talk and treat them with respect, dignity, and civility. We connect emotionally, collaborate, ask questions, and listen. We have empathy, and we step into their shoes.
Serving others means giving value, which includes self-control and empathy—understanding who you are serving. Listening is a big part of that.
I discovered that listening breeds knowledge, knowledge breeds creditability, and credibility breeds trust that allows relationships to flourish.
And when delivering bad news, use a velvet hammer. How do we do that?
Talking about the hard truths in positive tones let the criticisms come in handy. So is starting a difficult conversation by emphasizing something positive, as well citing facts instead of opinion to support a controversial conclusion, and end on a note of optimism and with potential solutions.
When we move beyond improving ourselves to improving others, it shows that we are transfer from power to ME in the power of WE. We grow a company when we grow its people.
Serving others is Why and the establishment of faith is how for taking people on a transformative journey, he writes.
Building faith is about moves people to accept an alternative reality for themselves and others, and then willingly participate in making it. This is the first big step if you want people to change, because they need to understand and believe in change.
When CEO Sam Palmisano resigned at the end of 2011, there were many qualified replacements, including Rometty. The senior vice president of human resources told her, " Ginni, if you want the opportunity to be CEO of IBM, don't try to run for office. He said, "I translated his wise advice into meaning put your focus on followership, not on politics."
One of the best chapters for me was Knowing what needs to be changed, what needs to be endured. If we want to make changes for ME or the WE, we must understand that certain characteristics are necessary to bring certain results. New thinking brings new behavior that results in different results. We need to give people the tools—the means—to change.
When moments of invention arise, changing the "how" can be overlooked in favor of focusing on the "what." It's actually not enough to just tell people to deliver a different result. We need to create a new way of working, give people permission to innovate, and create an environment that encourages and rewards new behaviors and skills—all at scale.
With any transition, balancing the old and the new is always a challenge because it is difficult for people to wrestle with this tension. Even with big changes, some things don't change. "Changing a very large entity also means reconciling the pace of change in the market at the rate and pace of change that the organization can tolerate." In addition, "once we know what will endure, even if it has to be modern, we will have a platform where we can be a bridge to the future."
What doesn't change?
If an organization is to face the challenges of a changing world, it must be ready to change everything about itself except the beliefs on which all its policies and actions are based.
What is your foundation "where the storm of change happens"?
If there are failures and critics, you should have built some strength.
Strength is the result of many factors, but two in particular—relationships and character. Both are under our control.

The right relationships provide perspective, meaning they help us judge the importance of something, or see something from another, perhaps broader angle, which is essential for moving forward. .

Character is the way we choose to face the many challenges we face in an important decision-making moment but also over time.
Rometty did not ignore the critics. He asked himself if they had legitimate points and anything he could learn from their perspective. "Critics may inform me, but they don't define me."
To help us use the good power of US—society—one way is to see "big problems as big systems that need to be changed." In systematic thinking, "a good power of measure helps to build faith in an activity; create new solutions; leave the wrong; and modernize what is right."
***


Follow us on
Instagram
and
Twitter
for more ideas on leadership and personal development.
***


Posted by Michael McKinney at 06:53 AM

Permalink
| Comments (0)
| This post is about Renewal
, Leadership