This Is Not TV: HBO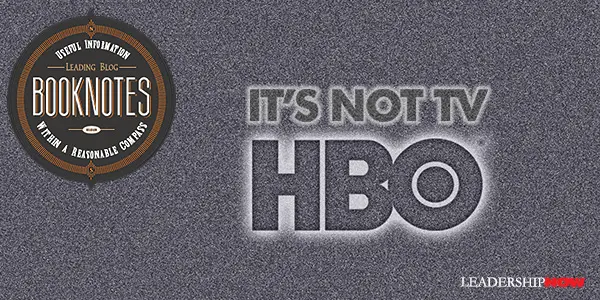 mEDIA reporting veterans Felix Gillette and John Koblin trace the history of HBO's humble launch on November 8, 1972, with "about 375 subscribers," to the challenges it faces today in an industry which they did. This Isn't TV: The Incredible Rise, Revolution, and Future of HBO.
It is a cultural history and a fascinating organizational story full of drama, industrial politics, and changing social norms. Below are just a few quotes that create food for thought:
❧ Michael Fuchs: If we are going to build character in this business, it has to be through original programming.
❧ Michael Fuchs: There is no modern Dickens. So, I sent a letter and said, "let's be the Dickens," let's look at contemporary society like no other in the country.
❧ Their mission, in short, is to create quality noise.
❧ The fastest way to go out of business in the internet age, they believe, is to make decisions based on your own business, preferences, political beliefs, desires, and tastes. They promise to follow the data wherever it takes them.
❧ On HBO in the mid-2000s: It looks like there are a lot of people trying to manage for retirement. Let's not rock the boat.
❧ 2008: It was a very comfortable company. Everything in the offices is first class. There is a gym. There is a cafeteria. There is an on-site acupuncturist, on-site tailor, and on-site masseuse. That creates a certain satisfaction.
❧ Great television from just one place. From listening to artists and supporting their instincts and passionate visions. The thing about testing is it tells you about the past, not what the future holds. What HBO knows how to do is find something that no one is looking for and make it something that everyone thinks they want until now.
***


Follow us on
Instagram
and
Twitter
for more ideas on leadership and personal development.
***


Posted by Michael McKinney at 07:46 AM

Permalink
| Comments (0)
| This post is about General Business