Top Thoughts for April 6, 2023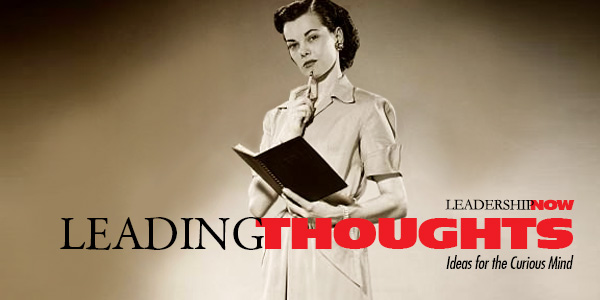 IShared DEAS has the power to expand perspectives, change thinking, and move lives. Here are two ideas for the curious mind to engage:
I am.
Dave Ramsey in momentum:
"Momentum is an interesting and somewhat difficult thing. If you have momentum in any area of ​​your life you look better than you are. When your star is shining everyone thinks you are smarter and prettier than in your reality. On the contrary, if you don't have momentum you are better than you look. What we discovered is that momentum is not a random lightning, but on the contrary, it is reality DOING."
Source: EntreLeadership: 20 Years of Practical Business Wisdom from the Trenches
II.
Associate professor Mark de Rond to lovable fools and worthy fools:
"The analysis suggests that if a person is not well-liked, it is almost irrelevant whether he is competent or not. On the contrary, if someone is well-liked, his colleagues will look for every little skill he has to offer, meaning that a little likability goes more mileage than skill in making someone a desirable team player.
Source: There's an I on the Team: What Elite Athletes and Coaches Really Know About High Performance
***
Check out these ideas every Thursday on Top Blog. Find more ideas at Leading Thoughts index.
***


Like us in
Instagram
and
Facebook
for more ideas on leadership and personal development.

Posted by Michael McKinney at 06:35 AM

Permalink
| Comments (0)
| This post is about Leading Thoughts