Leading Thoughts for August 17, 2023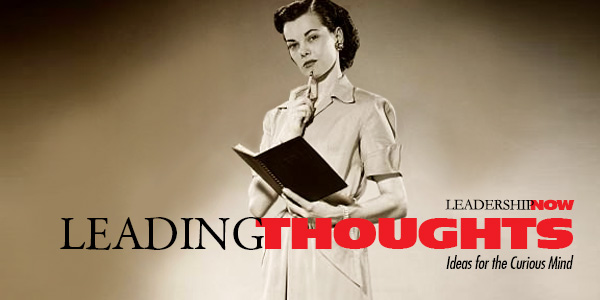 IDEAS shared have the power to expand perspectives, change thinking, and move lives. Here are two ideas for the curious mind to engage with:
I.
Martin Moore on why leadership is hard:
"Leadership is hard because, more than anything else, it's about people. Most of us struggle to manage ourselves: our subconscious drivers, our relationships, our emotions, our mental health, our habits. Leadership demands not only that we master ourselves, but also that we become strong enough and capable enough to help others do the same."
Source: No Bullsh!t Leadership
II.
Steven Kotler on achieving the art of the impossible:
"Motivation is what gets you into the game; learning is what helps you continue to play; creativity is how you steer; and flow is how you turbo-boost the results beyond all rational standards and reasonable expectations."
Source: The Art of Impossible: A Peak Performance Primer
* * *
Look for these ideas every Thursday on the Leading Blog. Find more ideas on the LeadingThoughts index.
* * *


Like us on
Instagram
and
Facebook
for additional leadership and personal development ideas.

Posted by Michael McKinney at 05:43 AM

Permalink
| Comments (0)
| This post is about Leading Thoughts