Top Thoughts for December 22, 2022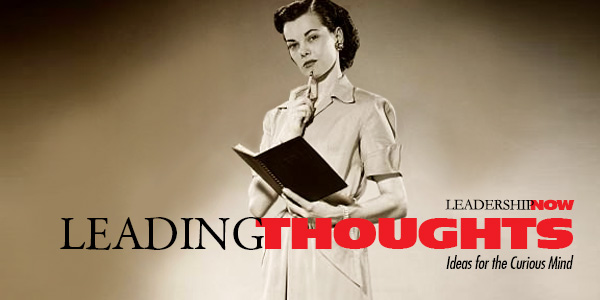 IShared DEAS has the power to expand perspectives, change thinking, and move lives. Here are two ideas for the curious mind to engage:
I am.
Erica Ariel Fox to develop an internal Lookout so you can see your reactions instead of just acting on them:
"When life throws you a situation, your Lookout can see where you're going. Before you do or say anything, Lookout will let you know. With that information, you can choose whether or not to change the course. If you do, you'll get a different result than you've gotten before. Developing your Lookout skills over time will make the lasting change you want, in your leadership and in your life.
Source: Winning from Within: A Developmental Approach to Leadership, Survival, and Lasting Change
II.
Gary Hamel on the need for leaders to be stewards:
"If you are a leader at any level in any organization, you are a steward—of careers, capabilities, resources, the environment, and the values ​​of the organization. … What is important now, more than ever, is that managers accept the responsibilities of stewardship. … If you are a manager or an executive, your stewardship obligations extend beyond yourself and your family. But in recent years many business leaders have happily shirked their responsibilities. So, ask yourself, am I really a steward?"
Source: What Matters Now: How to Win in a World of Constant Change, Fierce Competition, and Unstoppable Innovation
***
Check out these ideas every Thursday on Top Blog. Find more ideas at Leading Thoughts index.
***


Like us in
Instagram
and
Facebook
for more ideas on leadership and personal development.

Posted by Michael McKinney at 07:45 AM

Permalink
| Comments (0)
| This post is about Leading Thoughts