Top Thoughts for February 23, 2023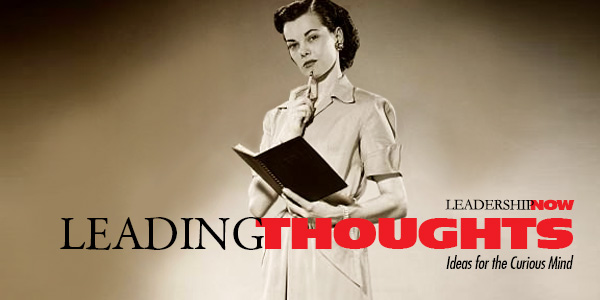 IShared DEAS has the power to expand perspectives, change thinking, and move lives. Here are two ideas for the curious mind to engage:
I am.
Matt Mayberry to avoid slogans and take no action to change your culture:
"Culture isn't just about turning values ​​into behavior. It's about turning values ​​into repetitive behavior, into actions that become daily habits shared throughout the organization.

Doing something often, especially in the context of exchanging a negative attitude for a new and more positive attitude, is a good first step in the right direction, but it's only one step. Doing something repeatedly, to the point where it becomes ingrained in what an organization does every day and becomes common practice, is where cultural excellence lies.
Source: Culture Is the Way: How Leaders at Every Level Build Organizations for Speed, Impact, and Excellence
II.
Abraham Lincoln of the requirements to face new challenges:
"The dogmas of the quiet past, are not sufficient for the storm of today. The occasion is heaped with difficulty, and we must rise — with the occasion. As our case is new, so we must think again, and move again. We must renounce ourselves, and then we will save our country"
Source: Annual Message to Congress – Concluding Remarks, December 1, 1862
***
Check out these ideas every Thursday on Top Blog. Find more ideas at Leading Thoughts index.
***


Like us in
Instagram
and
Facebook
for more ideas on leadership and personal development.

Posted by Michael McKinney at 07:29 AM

Permalink
| Comments (0)
| This post is about Leading Thoughts