Top Thoughts for June 1, 2023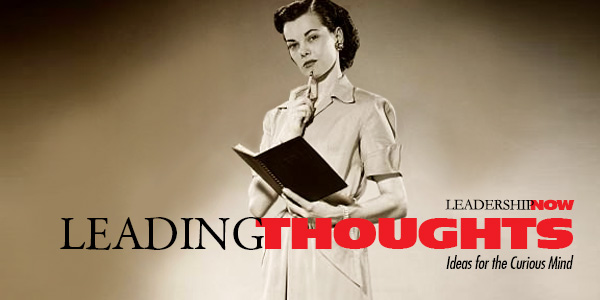 IShared DEAS has the power to expand perspectives, change thinking, and move lives. Here are two ideas for the curious mind to engage:
I am.
TD Jakes in disruptive thinking:
"Every stage of chaos brings a gift—an opportunity to disrupt the chaos by offering a solution rather than engaging in a debate. Disruptive thinking isn't about picking sides in an argument; it's about stepping from an argument to a solution ."
Source: Disruptive Thinking: A Bold Strategy to Transform the Way We Live, Lead, and Love
II.
Retired Navy SEAL commander Rich Diviney in dynamic submission:
"In a high-performance team, leadership moves everywhere, and whoever, the leader must be at any time. Such teams understand that information, challenges, and obstacles can come from anywhere angle at any time. And they are effective because the teammate closest to the problem can step up and lead, while the rest of the team defers to the temporary leader.
Source: The Features: 25 Hidden Drivers of Best Performance
***
Check out these ideas every Thursday on Top Blog. Find more ideas at Leading Thoughts index.
***


Like us in
Instagram
and
Facebook
for more ideas on leadership and personal development.

Posted by Michael McKinney at 03:50 PM

Permalink
| Comments (0)
| This post is about Leading Thoughts