Top Thoughts for June 29, 2023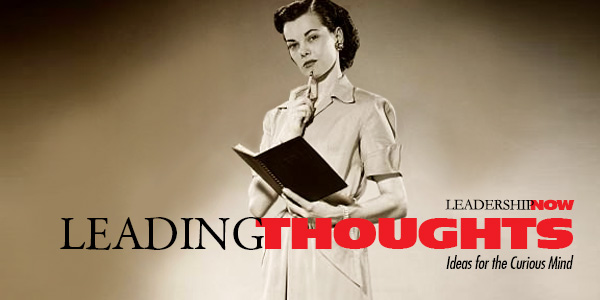 IShared DEAS has the power to expand perspectives, change thinking, and move lives. Here are two ideas for the curious mind to engage:
I am.
Jon Gordon in our connection:
"In Los Angeles—home to some of the worst traffic in the United States—a bright sign reads, 'You are the traffic.' In essence, because we are all one, we are all traffic. When you realize this truth, you stop seeing others as separate and part of the problem. In fact, the circumstance is not even a problem. The lie that you are blind to is the problem. Remember the truth and enjoy the ride."
Source: The One Truth: Elevate Your Mind, Unlock Your Power, Heal Your Soul
II.
Robert Waterman in bureaucracies:
"Bureaucracy helps us all day; it effectively deals with everyday problems. The problem is, the change ignores the usual bureaucratic lines. The real action in organizations happens outside of 'the right channels.'"
Source: Adhocracy
***
Check out these ideas every Thursday on Top Blog. Find more ideas at Leading Thoughts index.
***


Like us in
Instagram
and
Facebook
for more ideas on leadership and personal development.

Posted by Michael McKinney at 07:16 AM

Permalink
| Comments (0)
| This post is about Leading Thoughts