Top Thoughts for March 2, 2023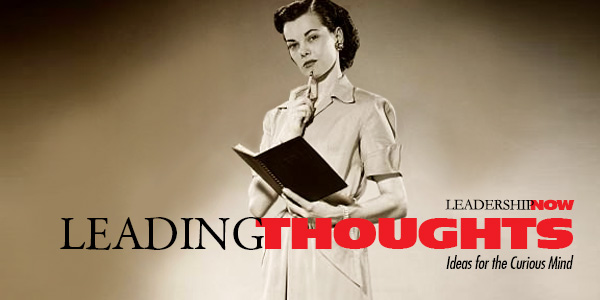 IShared DEAS has the power to expand perspectives, change thinking, and move lives. Here are two ideas for the curious mind to engage:
I am.
Former IBM Chairman and CEO Ginny Rometty on the challenge of changing a culture:
"When opportunities arise to innovate, change to how can be overlooked in favor of focusing on WHAT. In fact, it is not enough to simply tell people to deliver a different result. We need to create a new way of working, give people permission to innovate, and create an environment that encourages and rewards new behaviors and skills — all at scale.
Source: Good Power: Leading Positive Change in Our Lives, Work, and World
II.
Fortune 50 technology and business leader Daphne Jones explain why purpose is a combination of love and capability:
"Purpose is the combination of one's passion and capability. Purpose is the main reason you exist. The simple way I define a person's purpose is to understand what the person loves and has a natural inclination or ability to do. If you have a passion for a particular vocation, but don't have the natural instinct or ability to learn and do it well, that's not your goal. If you have the capability but you are not interested in exploiting it or using it to a meaningful purpose, that is not your purpose. Only when these two aspects are present at the same time will your purpose be fulfilled."
Source: Win When They Say You Can't: Break Through Barriers and Continue to Level Up Your Success
***
Check out these ideas every Thursday on Top Blog. Find more ideas at Leading Thoughts index.
***


Like us in
Instagram
and
Facebook
for more ideas on leadership and personal development.

Posted by Michael McKinney at 09:15 AM

Permalink
| Comments (0)
| This post is about Leadership Today 140