Leading Thoughts for October 12, 2023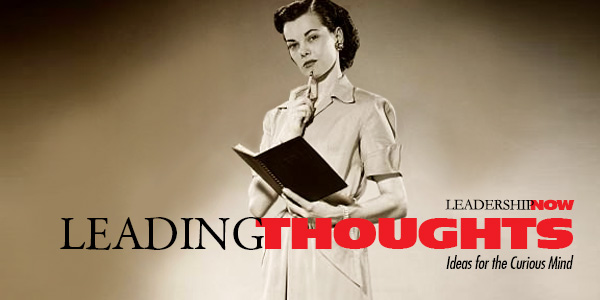 IDEAS shared have the power to expand perspectives, change thinking, and move lives. Here are two ideas for the curious mind to engage with:
I.
Former Vanity Fair editor-in-chief Graydon Carter on how careers evolve:
"Nobody knows what they're doing at first. You have to find something you are interested in, throw yourself at it, do the best you can, and pick things up as you go along. I never saw myself as having a career path. I've sort of muddled through from one thing to the next and, for most people, that's just the way careers evolve."
Source: Getting There: A Book of Mentors by Gillian Zoe Segal
II.
Fashion designer Rachel Zoe on career goals:
"I never made a blueprint for my future, and I don't believe in setting rigid career goals. Career paths usually require a lot of trial and error, and you have to allow yourself the freedom to go with the flow. Sometimes, you think you should go in one direction, but it doesn't work out or feel right. Occasionally, a better opportunity presents itself and you start over in a different area. If you set a goal that isn't fairly realistic, you could be setting yourself up for failure—which can really set you back emotionally."
Source: Getting There: A Book of Mentors by Gillian Zoe Segal
* * *
Look for these ideas every Thursday on the Leading Blog. Find more ideas on the LeadingThoughts index.
* * *


Like us on
Instagram
and
Facebook
for additional leadership and personal development ideas.

Posted by Michael McKinney at 12:49 PM

Permalink
| Comments (0)
| This post is about Leading Thoughts