Leading Thoughts for September 28, 2023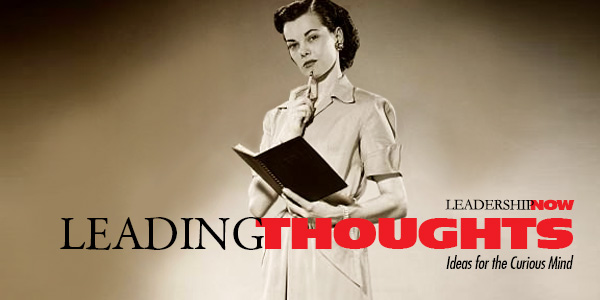 IDEAS shared have the power to expand perspectives, change thinking, and move lives. Here are two ideas for the curious mind to engage with:
I.
Bill Taylor on humility and ambition:
"Exceptional performance begins with extraordinary insights. But that doesn't mean it's your job to come up with those insights. In businesses built on new ideas, generating and evaluating ideas is everybody's business. That's why humility and ambition need not be at odds. Indeed, humility in the service of ambition is the most effective mind-set for leaders who aspire to do nig things in a world with huge unknowns."
Source: Simply Brilliant: How Great Organizations Do Ordinary Things in Extraordinary Ways
II.
Andy Cohen on assuming people think just like you do:
"It's quite common to get frustrated with another person in your group for not thinking the same way as you do or to become angry when the person acts differently than you would have under the same conditions. There is no right or wrong in these types of situations because each party assumes he or she understands what to do. Yet when things don't turn out as expected, each party is convinced that the other 'didn't listen' or 'should have known.' The ability to create division between people so quickly is what makes [assuming people think like you do] so dangerous."
Source: Challenge Your Assumptions, Change Your World
* * *
Look for these ideas every Thursday on the Leading Blog. Find more ideas on the LeadingThoughts index.
* * *


Like us on
Instagram
and
Facebook
for additional leadership and personal development ideas.

Posted by Michael McKinney at 06:44 AM

Permalink
| Comments (0)
| This post is about Leading Thoughts