The Best Leadership Books of 2022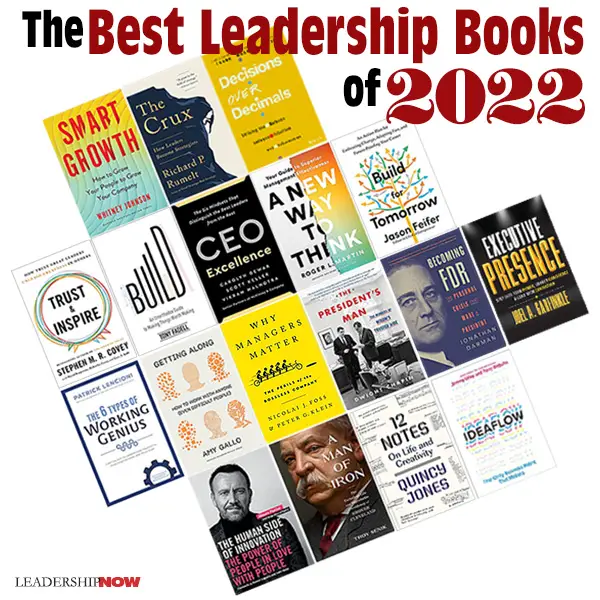 The titles listed below—published in 2022—reflect a need to get realigned with solid leadership practices and thinking.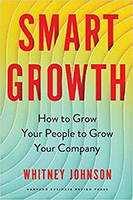 Smart Growth: How to Grow Your People to Grow Your Company
by Whitney Johnson
(Harvard Business Review Press, 2022)
Growth is the goal. Helping people develop their potential—enabling them to articulate and become the self they want to be, are capable of being, and that best serves them and others in the short and long term—is what we as individuals and leaders strive toward. But how do we grow? It turns out it happens in a predictable way, which means we can understand where we are in our growth and chart a way forward. In this compact, complete guide, Whitney Johnson dives more deeply than ever into the S Curve of Learning so that you can envision how growth happens and direct yourself and others in your organization to create a culture that fosters it. The growth and learning journey comes in three phases: the Launch Point, the Sweet Spot, and Mastery. Compelling examples of successful people will show you when and why growth is slow, how to keep going, what to do when growth and learning are almost too fast to keep up with, and how to leap from one growth journey to another. (Blog Post)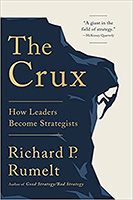 The Crux: How Leaders Become Strategists
by Richard P. Rumelt
(PublicAffairs, 2022)
What passes for strategy in too many businesses, government agencies, and military operations is a toxic mix of wishful thinking and a jumble of incoherent policies. Richard P. Rumelt's breakthrough concept is that leaders become effective strategists when they focus on challenges rather than goals, pinpointing the crux of their pivotal challenge—the aspect that is both surmountable and promises the greatest progress—and taking decisive, coherent action to overcome it. (Blog Post)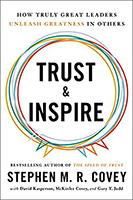 Trust and Inspire: How Truly Great Leaders Unleash Greatness in Others
by Stephen M.R. Covey
(Simon & Schuster, 2022)
We have a leadership crisis today, where even though our world has changed drastically, our leadership style has not. Most organizations, teams, schools, and families today still operate from a model of "command and control," focusing on hierarchies and compliance from people. But because of the changing nature of the world, the workforce, work itself, and the choices we have for where and how to work and live, this way of leading is drastically outdated. Stephen M.R. Covey has made it his life's work to understand trust in leadership and organizations. He offers a simple yet bold solution: to shift from this "command and control" model to a leadership style of "trust and inspire." People don't want to be managed; they want to be led. Trust and Inspire is a new way of leading that starts with the belief that people are creative, collaborative, and full of potential. (Blog Post)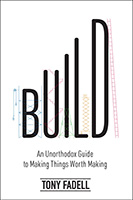 Build: An Unorthodox Guide to Making Things Worth Making
by Tony Fadell
(Harper Business, 2022)
After building the iPod, the iPhone, and co-founding Nest, Tony Fadell's latest venture is an investment firm called Future Shape. They call themselves "mentors with money." Their aim is to not only provide funding but help when founders really need it. Build is an incredible opportunity to learn how to start, grow, and exit a business from someone who has been through it all. Obviously, he didn't do everything right along the way, but he did learn from it, and he shares the lessons with us. (Blog Post)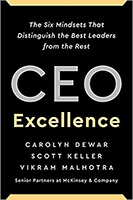 CEO Excellence: The Six Mindsets That Distinguish the Best Leaders from the Rest
by Carolyn Dewar, Scott Keller and Vikram Malhotra
(Scribner, 2022)
From the world's most influential management consulting firm, McKinsey & Company, an insight-packed, revelatory look at how the best CEOs do their jobs based on extensive interviews with today's most successful corporate leaders—including chiefs at Netflix, JPMorgan Chase, General Motors, and Sony. Being a CEO at any of the world's largest companies is among the most challenging roles in business. Billions, and even trillions, are at stake—and the fates of tens of thousands of employees often hang in the balance. Yet, even when "can't miss" high-achievers win the top job, very few excel. Thirty percent of Fortune 500 CEOs last fewer than three years, and two out of five new CEOs are perceived to be failing within eighteen months. For those who shoulder the burden of being the one on whom everyone counts, a manual for excellence is sorely needed. (Blog Post)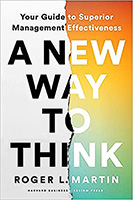 A New Way to Think: Your Guide to Superior Management Effectiveness
by Roger L. Martin
(Harvard Business Review Press, 2022)
Over a stellar career, Roger Martin has advised the CEOs of some of the world's most successful companies. From the beginning, he noted that almost every executive he talked to had a "model"—a framework or way of thinking that guided their strategy and activities. But these models tended to become automatic, so much so that when one didn't work, the typical response was just to apply it again—with greater enthusiasm. Martin took a fresh, critical approach to helping. When company leaders came to him with fundamental questions—How do you decide where to play and how to win? What is the key to shaping and changing corporate culture? How can you design a successful, sustainable innovation process?—his first response was to break the spell of the current model with a memo articulating a new way to think about the problem at hand and a more powerful and effective way to successfully overcome it. (Blog Post)


Build for Tomorrow: An Action Plan for Embracing Change, Adapting Fast, and Future-Proofing Your Career
by Jason Feifer
(Harmony, 2022)
The moments of greatest change can also be the moments of greatest opportunity. Adapt more quickly and use the power of change to your advantage with this guide from the editor in chief of Entrepreneur magazine and host of the Build for Tomorrow podcast. We experience change in four phases. The first is panic. Then we adapt. Then we find a new normal. And then, finally, we reach the phase we could not have imagined in the beginning, the moment when we realize that we wouldn't go back. Build for Tomorrow is designed to accelerate that process—to help you lessen your panic, adapt faster, define the new normal, and thrive going forward. (Blog Post)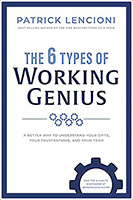 The 6 Types of Working Genius: A Better Way to Understand Your Gifts, Your Frustrations, and Your Team
by Patrick M. Lencioni
(Matt Holt, 2022)
The 6 Types of Working Genius is the fastest way to help people identify the type of work that brings them joy and energy, and avoid work that leads to frustration and burnout. Beyond the personal discovery and instant relief that Working Genius provides, the model also gives teams a remarkably simple and practical framework for tapping into one another's natural gifts. In classic Lencioni fashion, Pat brings his model to life in a page-turning fable that is as relatable as it is compelling. He tells the story of Bull Brooks, an entrepreneur, husband, and father who sets out to solve his own frustration at work and stumbles into a new way of thinking that changes the way he sees his work, his team, and even his marriage. In addition to this book, Lencioni and the Table Group have created a 10-minute assessment that helps individuals quickly identify their gifts and apply this model to themselves and their teams. (Blog Post)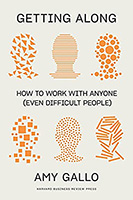 Getting Along: How to Work with Anyone (Even Difficult People)
by Amy Gallo
(Harvard Business Review Press, 2022)
Work relationships can be hard. The stress of dealing with difficult people dampens our creativity and productivity, degrades our ability to think clearly and make sound decisions, and causes us to disengage. We might lie awake at night worrying, withdraw from work, or react in ways we later regret—rolling our eyes in a meeting, snapping at colleagues, or staying silent when we should speak up. In Getting Along, workplace expert and Harvard Business Review podcast host Amy Gallo identifies eight familiar types of difficult coworkers—the insecure boss, the passive-aggressive peer, the know-it-all, the biased coworker, and others—and provides strategies tailored to dealing constructively with each one. (Blog Post)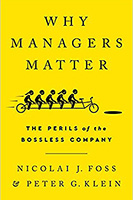 Why Managers Matter: The Perils of the Bossless Company
by Nicolai J Foss and Peter G Klein
(PublicAffairs, 2022)
It's tempting to be seduced by futurist fantasies where every company has the culture of a startup, and where employees in wacky, whimsical office settings, liberated from hierarchies and bosses that oppress them, are the foundation for breakthrough performance. "Get real," warn Nicolai J. Foss and Peter G. Klein. These fads ironically lead to micromanaging and, often, to disaster. Companies and societies, they show, need authority and hierarchy to coordinate work, including creative work. And, counterintuitively, they illustrate how the creative use of authority and hierarchy helps companies to be more agile and flexible, enabling educated, motivated people and teams to thrive. And not a moment too soon: they provide evidence that global challenges such as the proliferation of artificial intelligence, economic disruption, empowered knowledge workers, and black swan events such as the pandemic actually make hierarchy and the job of the manager more important than ever. (Blog Post)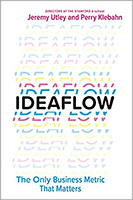 Ideaflow: The Only Business Metric That Matters
by Jeremy Utley and Perry Klebahn
(Portfolio, 2022)
We all want great ideas, but few actually understand how they're born. Innovation doesn't come from a sprint or a hackathon–it's a result of maximizing ideaflow. Jeremy Utley and Perry Klebahn of Stanford's renowned Hasso Plattner Institute of Design (aka the "d.school") offer a proven strategy for coming up with great ideas by yourself or with your team, and quickly determining which are worthy. Perhaps you have experienced low ideaflow. Have you been in that quiet conference room, with a half-filled whiteboard, and an unmet business target?. With the proven system in this book, entrepreneurs, managers, and leaders will learn how to tap into surprising and valuable ideas on demand and fill the creative pipeline with breakthrough ideas. (Blog Post)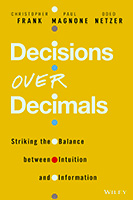 Decisions Over Decimals: Striking the Balance between Intuition and Information
by Paul F. Magnone, Christopher J. Frank and Oded Netzer
(Wiley, 2022)
Agile decision making is imperative as you lead in a data-driven world. Amid streams of data and countless meetings, we make hasty decisions, slow decisions, and often no decisions. Uniquely bridging theory and practice, Decisions Over Decimals breaks this pattern by uniting data intelligence with human judgment to get to action – a sharp approach the authors refer to as Quantitative Intuition (QI). QI raises the power of thinking beyond big data without neglecting it and chasing the perfect decision while appreciating that such a thing can never really exist. Successful decision-makers square critical thinking with open-mindedness by blending information, intuition, and experience.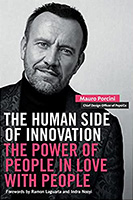 The Human Side of Innovation: The Power of People in Love with People
by Mauro Porcini
(Berrett-Koehler Publishers, 2022)
It is in part a memoir by one of the world's leading designers—the first chief design officer at both 3M and Pepsi. But even more, it is a manifesto for a genuine, authentic, and deeply humanistic approach to design, one that aims to create personal and social value first and financial and economic value afterward. Putting people first requires what Porcini calls unicorns: people who are in love with people, who have a genuine fire in them to create meaningful solutions for actual human beings. In this book, he describes them, celebrates them, and details their superpowers so you can find them, hire them, grow them, and retain them.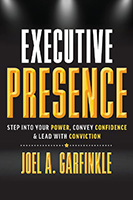 Executive Presence: Step Into Your Power, Convey Confidence, & Lead With Conviction
by Joel A. Garfinkle
(JAG Press, 2022)
Executive presence matters. When 400 CEOs were asked how they choose next-level leaders, 89% of them said they looked for one critical trait-executive presence. This quality is crucial for professional success. In Executive Presence, Joel Garfinkle shows you how to step into your power, convey confidence, and lead with conviction. As you rise in your organization, your executive presence must keep pace with your growth. The higher the stakes, the more you need that power and presence. (Blog Post)

BIOGRAPHY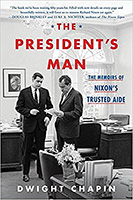 The President's Man: The Memoirs of Nixon's Trusted Aide
by Dwight Chapin
(William Morrow, 2022)
From Richard Nixon's "You-won't-have-Nixon-to-kick-around-anymore" 1962 gubernatorial campaign through his world-changing trips to China and the Soviet Union and epic downfall, Dwight Chapin was by his side. As his personal aide and then Deputy Assistant in the White House Chapin was with him in his most private and most public moments. He traveled with him, assisted, advised, strategized, campaigned and learned from America's most controversial president. As Bob Haldeman's protege, Chapin worked with Henry Kissinger in opening China—then eventually went to prison for Watergate although he had no involvement in it. It's a story that ranges from Coretta Scott King to Elvis Presley, from the wonder of entering a closed Chinese society to the Oval Office, and concludes with startling new insights and conclusions about the break-in that brought down Nixon's presidency. (Blog Post)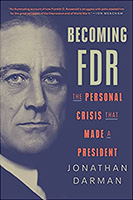 Becoming FDR: The Personal Crisis That Made a President
by Jonathan Darman
(Random House, 2022)
Becoming FDR traces the riveting story of the struggle that forged Roosevelt's character and political ascent. Soon after contracting polio in 1921 at the age of thirty-nine, the former failed vice-presidential candidate was left paralyzed from the waist down. He spent much of the next decade trying to rehabilitate his body and adapt to the stark new reality of his life. By the time he reemerged on the national stage in 1928 as the Democratic candidate for governor of New York, his character and his abilities had been transformed. He had become compassionate and shrewd by necessity, tailoring his speeches to inspire listeners and to reach them through a new medium—radio. Tracing the physical, political, and personal evolution of the iconic president, Becoming FDR shows how adversity can lead to greatness, and to the power to remake the world. (Blog Post)


A Man of Iron: The Turbulent Life and Improbable Presidency of Grover Cleveland
by Troy Senik
(Simon & Schuster/Threshold Editions, 2022)
Featuring a wealth of in-depth research and newly uncovered details, A Man of Iron explores the remarkable life and extraordinary career of Grover Cleveland—one of America's most unusual presidents and the only one to serve two non-consecutive terms. Grover Cleveland's political career—a dizzying journey that saw him rise from obscure lawyer to president of the United States in just three years—was marked by contradictions. A politician of uncharacteristic honesty and principle, he was nevertheless dogged by secrets from his personal life. A believer in limited government, he pushed presidential power to its limits to combat a crippling depression, suppress labor unrest, and resist the forces of American imperialism. A headstrong executive who alienated Congress, political bosses, and even his own party, his stubbornness nevertheless became the key to his political appeal. The most successful Democratic politician of his era, he came to be remembered most fondly by Republicans. (Blog Post)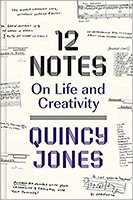 12 Notes: On Life and Creativity
by Quincy Jones
(Abrams Image, 2022)
12 Notes is a self-development guide that will affirm that creativity is a calling that can and should be answered, no matter your age or experience. Drawing from his own life, and those of his many creative collaborators past and present, Quincy Jones presents readers with lessons that are hardworking and accessible, yet speak to the passion of self-expression. He includes sections as deep as how to transform grief into power, and as practical as how to set goals and articulate intentions through daily affirmations. Weaving his story throughout, Jones lets readers in on his own creative process, as well as the importance of letting honesty, hard work, and good relationships drive your career. (Blog Post)

* * *


Follow us on
Instagram
and
Twitter
for additional leadership and personal development ideas.

Posted by Michael McKinney at 11:00 AM

Permalink
| Comments (0)
| This post is about Books