Top Thoughts for February 2, 2023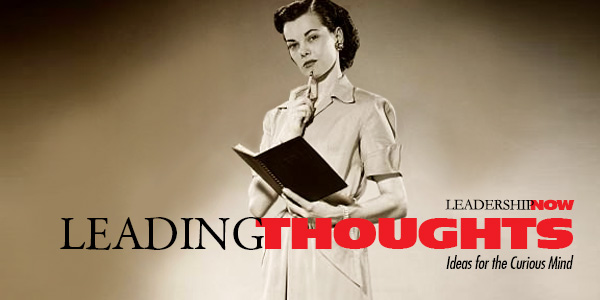 IShared DEAS has the power to expand perspectives, change thinking, and move lives. Here are two ideas for the curious mind to engage:
I am.
Robert Kaplan to learn to ask the right questions:
"Fortunately, the key to managing and leading your organization and your career does not depend on 'having all the answers.' The key lies in making a conscious effort to regularly step back to reflect, and then identify and frame the issues that are important to guiding your organization effectively into the future.
Source: What to Ask the Man in the Mirror: Critical Questions for Becoming a More Effective Leader and Reaching Your Potential
II.
Jeremy Utley and Perry Klebahn in creativity:
"Regardless of exactly how you define creativity, the important thing is that we don't create from whole cloth. Instead, we connect what we have, combining two or more elements in a new way. The abundant flow of ideas requires a great deal of raw material to make more of these unexpected combinations."
Source: Ideaflow: The Only Business Metric That Matters
***
Check out these ideas every Thursday on Top Blog. Find more ideas at Leading Thoughts index.
***


Like us in
Instagram
and
Facebook
for more ideas on leadership and personal development.

Posted by Michael McKinney at 06:54 AM

Permalink
| Comments (0)
| This post is about Leading Thoughts