The Height of Uncertainty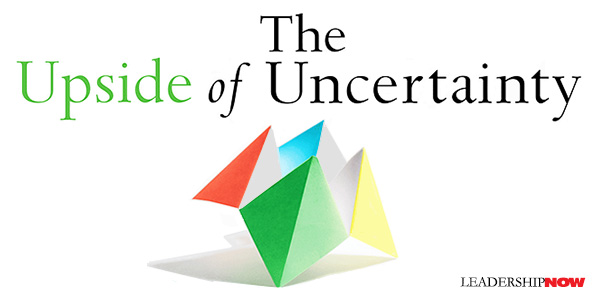 IN The Height of UncertaintyNathan and Susannah Furr assert that "Behind every uncertainty you face—even the unwanted and unpleasant kinds—insight, growth, and possibility are waiting in the wings. We all fear the failures of uncertainty, but we forget that change, creation, change, and innovation are rarely seen without their measure.
That's not to say there aren't real failures. We feel it first: anxiety, stress, fatigue, frustration, and confusion. Uncertainty, as they define it, is "anything unknown, any ambiguous situation where you don't know what to pay attention to, let alone all the ways it can be done." ." In contrast to risk, uncertainty does not involve any known outcomes—there are no probabilities that can be caused. This is uncharted territory.
But uncertainty gives us possibilities that arise that help not only to navigate the situation but to improve it and beyond it.
To do this, the authors present us with tools to help us in the unknown. While some of the tools overlap, they fall into four categories: Reframe, do, Sustain, and . They describe in detail how to implement each of the tools in all four categories.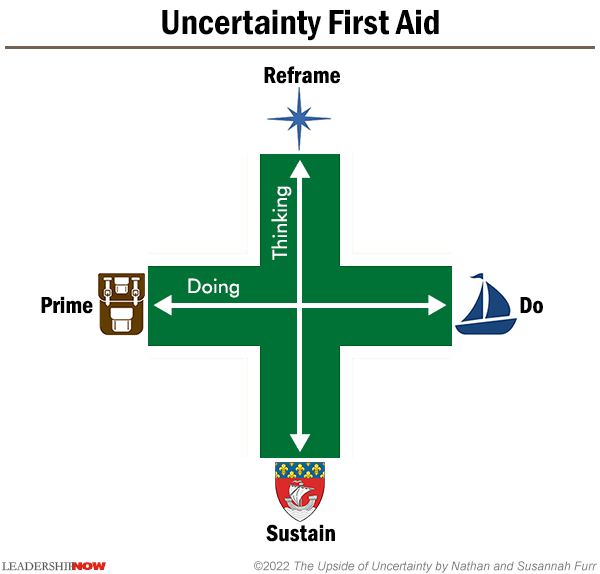 REFRAME
Reframe tools creating and strengthening a change of perspective, encouraging you to look creatively for all possibilities and to believe in an upside that you have yet to see.
Discovering the height of uncertainty begins with undergoing a radical change of perspective: Instead of fearing and avoiding the unknown, you recognize and embrace it as the source of possibility. Reframe's tools are very cognitive in nature, meaning they are about your understanding of the world.


Framing ∙ Reverse Insurance ∙ Frontiers ∙ Adjacent Possible ∙ Endless Games ∙ Stories ∙ Regret Regret ∙ Aplomb (Doubt/Self-Doubt) ∙ Manifest Uncertainty
PRIME
Basic tools prepare you by encouraging projects that are important to you, taking into account your personal uncertainty landscape to produce satisfactory results when it's time to act.
Prime tools are located on the "doing" axis, which invites you to start taking steps toward whatever uncertainty you're facing. This includes uncertainties that you choose, such as starting a new project or adventure, and those that you do not, such as an unexpected loss or downsizing.


Know Your Risks ∙ Personal Real Options ∙ Uncertainty Balancers ∙ Dumbo Feathers ∙ Runway and Landing Strips ∙ Reimaging Resources ∙ Fait Sur Measure ∙ Don't Force the Machinery
ACT
Create tools describe how to consciously unlock the rewarding possibilities hidden in the uncertainties you face to advance the future you want to live.
As you implement the Do tool, remember that what happens in the future depends on the "conversations" you are willing to have, then give yourself permission to boldly engage with what has already been done to create new possibilities. . Anything and everything can be recomposed.


Activate & Unlock · Values ​​vs. Goals · Cognitive Flexibility · Learning in the Fog · 10,000 shots · Bricolage · Small Steps ∙ Pivot
EXAMINING
Keep the tools providing comfort and reminding you why and how to continue or how to pivot if things don't go as planned.
Sustainability tools are most helpful in times of crisis. Pursue tools that nurture and comfort you in the throes of uncertainty. Regret, worry, sadness, self-doubt, and even shame can be powerful obstacles to navigating uncertainty as well. The symbol used to represent Sustain is the Paris coat-of-arms containing a boat floating on turbulent waters with the Latin motto fluctuat nec mergitur o tosses but does not sink.


Emotional Cleanliness · Reality Check ∙ Magic
While facing the reality of your circumstances may bring "challenge, discomfort, and heartache, it is the only place where innovation, solutions, and evolution happen." The authors encourage us to go beyond just being strong variability. Transilience "is about change, jumping from one state to another." To recap, there are four critical things to remember when dealing with uncertainty:
Reframe uncertainty as an important portal to opportunity and imagine all the possibilities you can think of.
Put yourself first and the uncertainty you face with self-knowledge, research, balance, and supporters, and a collection of real options and potential exit strategies.
Face every uncertainty based on values, cognitive flexibility, and curiosity to reveal the essence waiting to be activated and unlocked.
Keep yourself and your projects going with emotional hygiene, reality checks, and magic.
***


Follow us on
Instagram
and
Twitter
for more ideas on leadership and personal development.
***


Posted by Michael McKinney at 10:06 AM

Permalink
| Comments (0)
| This post is about Renewal