Winning Teams Are Known For Trusting Their Team Members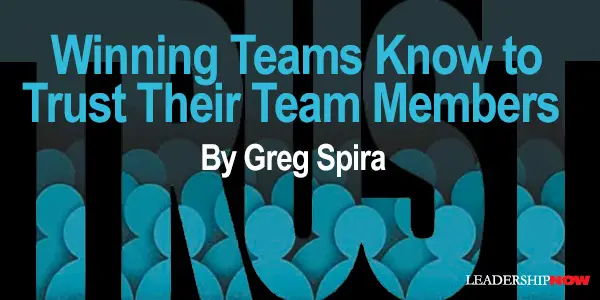 IN BUSINESS, as in sports, the aspect that distinguishes the best teams from the average teams comes down to collaboration. Yet many times, companies struggle to share and align operational plans.
Often, managers put their heads down and focus only on their own departments. But setting goals in functional silos and then expecting everything to work itself out across the organization is an unlikely path to success.
However, if they trust and coordinate with their cross-functional counterparts, they are better able to synchronize plans. Doing so ensures that what they do as a whole team enables the achievement of the company's overall business goals – which often represents the difference between success and failure.
Let's apply the team sport analogy further. In ice hockey, for example, players have a decision to make when the puck is passed to them. One option is to take the puck on the ice themselves to try to score a goal. They may have a significant incentive to do so – perhaps they are about to break a personal record or perhaps they believe that their chances of increasing their scoring statistics will make them more marketable as a player. They may also not trust their teammates' ability to score goals.
An alternative option is to pass the puck to another player who is in a better position and can make a coordinated play.
Faced with this decision in many games, team members notice the effects when individual members often try to go it alone. Loners may be viewed as suspicious by their teammates and lose a measure of respect. Because of this, others may not instinctively pass the puck to them. Such behaviors have an impact on the team's win-loss record — and not in the preferred category.
Think of this hockey analogy in a business context. Collaborating with other business functions is always a change for sales and marketing leaders. However, they cannot do it alone and expect to win the game. They often have to consider the wider implications when building commercial plans.
Once they focus on improving the entire business, however, a change in attitude occurs. Sales and marketing leaders are becoming more mature in their thinking about demand planning. They consider the demand plan a request for the product they are responsible for selling.
The manufacturing organization is rarely an open bar, so to speak. Supply planners should not be forced to guess which of the demand mix, quantity, or timing plans will be met, and hedge against possible poor performance from the manufacturing organization.
Similarly, with appropriate coordination, the mindset of the supply chain organization is changing. They know the pitfalls of second guessing the demand plan. The role of the supply chain organization is to develop a supply plan in response to a demand plan. This supply plan takes into account inventory, cost, and service level parameters that are considered optimal.
Coordinating and synchronizing plans across functions enables coordinated responses to changes regarding problems and opportunities. Doing so creates agility.
When top management leaders play their positions and trust their teammates to do what they say they will do in their plans, something else happens. Responding to change has become simpler and in some cases, effortless.
As in team sports, the regular synchronization of cross-functional demand plans in business is the key to empowering teams to execute – and win.
***

Greg Spira is an expert in Demand Management and Integrated Business Planning (IBP/S&OP) and works with companies to implement sustainable change at all levels and across functions by building organizational capabilities and developing high-performing teams performance. He has written and co-authored several white papers on Demand Management and is an instructor on the Oliver Wight Demand Management course. His new book, Trust the Plan: Demand Management for Business Leaders (J. Ross Publishing, April 18, 2023), shares how to ensure cross-functional collaboration, alignment of plans, and teamwork in any Demand Plan process. Learn more at www.gregspira.ca.

***


Follow us on
Instagram
and
Twitter
for more ideas on leadership and personal development.
***


Posted by Michael McKinney at 07:30 AM

Permalink
| Comments (0)
| This post is about cooperation